infos on intensive-workshops

Usualy, the summer workshops are only in Summer but I will be adding some early december and next Spring, check out all the details soon.
Here are regrouped the details and schedules of the Intensive-workshops of 3 full consecutive days, usually Monday, tuesday and wednesday from 9 a.m. to 4;30 p.m. These workshops are formulated to give you a good basic knowledge of all the techniques but in a simpler project for the beginners.
For those who have some experience in watercolour, I can teach you my favorite techniques wich are transparency optimization and the negative approach.
All the details below besides each atelier.
All the workshops require a intermidiate level of skills, except for the beginers workshop of course.
For the workshops annoted "intermediate", you need to be able to do small, but complete simple paintings by yourself.
For the workshops annoted "advanced", you need to be able to do paintings with more complexe techniques and already done some paintings of the subject you want to learn more with me.
The workshops of 3 days are 240$
There is never more than 4 persons by workshop but a minimum of 3 is required.
I take your name, e-mail and phone number, and will put you in the right level workshop for the subject you want.
I also ask for a deposit that will be taken only when the workshop is confirmed, by check, cash or bank transfer.
I insist that the level of skills is the same for all 4 in a workshop, I may want to evaluate your skills.

Please enroll or ask information ar brigitte@coursaquarelle.com or by phone at 819 346-9488
___________________________________________

2020 INTENSIVE-WORKSHOP

MARCH:

9-10-11 Inter 1

JUNE:

1-2-3 juin (not yet decided)

8-9-10 Inter

The July and august workshops have not been yet decided, keep posted.

Please not that these workshops do not repalce the regular schedule of sessions that span for 6 or 8 weeks. Please consult the SESSION schedule on the left of the menu.
________________________________________
summer intensive workshops
The 2019 INTENSIVE WORKSHOPS


JULY 2019

8-9-10 Basic techniques (done)

15-16-17 Basic techniques (done)

22-23-24 negative techniques (done)

29-30-31 basic techniques (done)

AUGUST:

5-6-7 sihouettes in landscapes, intermediate (done)

12-13-14 negative techniques, advanced (done)

19-20-21 Intermediate techniques (confirmed 1 place left)

DECEMBER:

9-10-11 (Inter 1)

You can enroll at brigitte@coursaquarelle.com or inquire by phone at 819 346-9488

________________________________________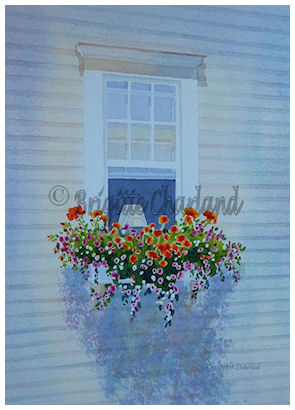 BASIC techniques
from 9 a.m to 4;30 p.m.


This workshop is specially designed for those who have never touched watercolour or very little. I beleive that before creativity becomes spontaneous, you have to experiment with the techniques of the medium; the level of pigments in the water, stabilize the wet paper to prevent buckling, know the steps for applying the frisquet to preserve whites so you can freely apply colour on a wt paper.
We will go from a feild of lilies, to a snow scene with birch trees, to the roundness of fruits and a negative background and make softened edges.
In short, we will touch to all the important techniques of watercolour but in simple subject and scenes to be able to concentrate on understanding the techniques at this level.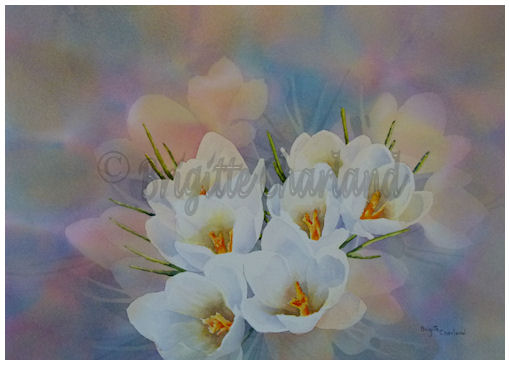 All in negative
from 9 am to 4h30 pm
This workshop is one of my favorite because it shows how to paint my favorite technique, the "negative" approach to creating soft backgrounds with less details. That approach can also be used in landscape and een portrait. Once you taste it, you're hooked. The photo is an exemple, subject may vary.
silhouettes in landscapes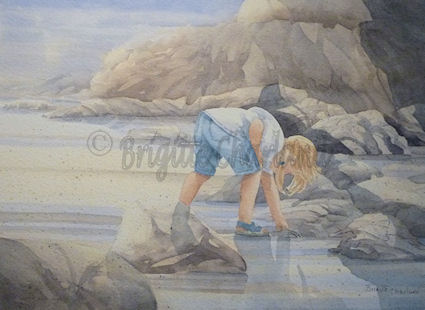 Silhouettes in landscape
from 9 am to 4h30 pm

This workshop is for persons who are quite at ease with the softening the edges techniques to render soft forms in the face. We will start with a person in a landscape and maybe 1 portrait. We will make warm and cool, soft transparent skin, hear and eyes tones. This workshop requires good observation of fine details.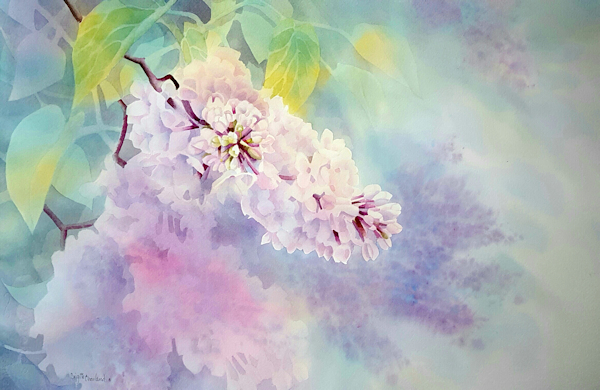 Creativity with the negative techniques workshop
9 a.m. to 4h30 p.m.
This workshop is designed for artists that already paint with the negative techniques but want to bring it to another level.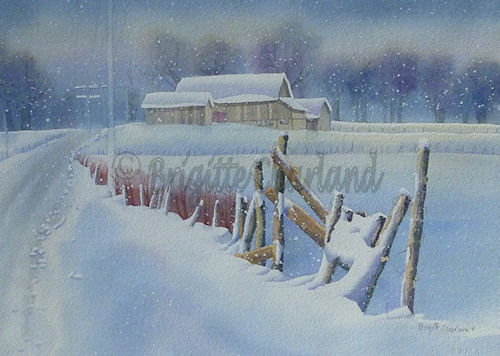 Techniques INTER 1

In this workshop, wich is a logic suite to the basic one, we will paint a summer landscape, a winter one and a balcony with flowers with their choice of many colours and textures and different techniques. We will also discuss composition choices we have starting with a photograph. The paintings will be a bit larger and more elaborate than at the basic workshop.
WATER landscapes (details)
from 9h to 4;30 pm
This workshop is for lakes, rivers and sea lovers. We learn with specific colours and mixtures to render lakes, streams, waterfalls or sea waves, to render the illusion of falls and the fluffyness of the water. We will work on the transparency and colours of reflections of boats onto the surface of a lake.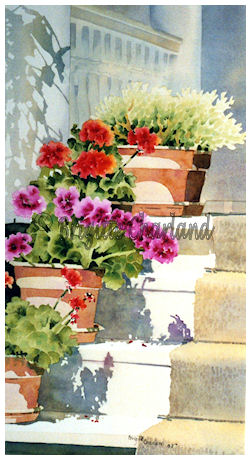 Windows, porches and villages with flowers
from 9 am to 4h30 pm

This workshop is candy to the eye, level intermediate+, it is full of textures, colours, light and shade. Subjects will vary to flowers to fruits but will be exciting and chalenging. We will paint a 1/4 sheet and a 1/2 sheet.
Light and shadows, transparency and textures, photos soon
9 a.m. to 4h30 p.m

This workshop is designed to teach you how to see and create all the subtils hues and shapes when you look at objects tru glass. Also how to render textures of different objects such as wood, lace, fruits or flowers and their shadows shapes and colours.